January 12, 2021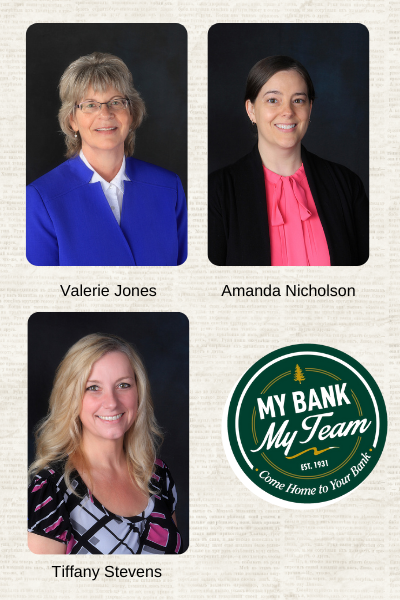 To augment its cash management services to meet the growing demand of its business customers, Citizens National Bank has established a cash management department and named Valerie (Val) A. Jones as the Vice President, Cash Management. In making the announcement, president & CEO Matthew Keene said "Val has been a team player since she was hired in 2011 working in a variety of positions at the bank. She is a well-known and respected banker within our community and has experience in multiple facets of banking, which made her the perfect person for launching the bank's new division."
Val began her career with Citizens National Bank as a teller in 2011 and was promoted to Assistant Internal Auditor in 2012 and Internal Auditor in 2013. In 2015 she was promoted to Vice President and assumed responsibility for retail banking functions. She is a 2019 graduate of the Perry School of Banking through the Michigan Bankers Association. A lifelong resident of Cheboygan, Val and her husband Kerry have two grown children, Douglas, and Rita. Val currently serves on the board of directors for the Cheboygan Salvation Army.
Amanda Nicholson has been promoted to Universal Banking Officer, assuming responsibility for many of the retail banking functions previously handled by Val Jones. In making the announcement Mr. Keene stated, "I look forward to working with Amanda in her new role. She is a welcome asset to the bank's leadership team, and I know she is the right person to help in the continued evolution of the Universal Banking team."
Amanda joined CNB in 2007 as a teller at the newly opened Alanson branch. In 2016 she transferred to the Indian River branch as a Universal Banker and in 2018 was promoted to Branch Operations Supervisor. Amanda attended Central Michigan University in Mt. Pleasant, Michigan majoring in Integrative Public Relations with a minor in Marketing. Amanda will work primarily from the Main Office in Cheboygan and will routinely rotate through all branch offices. Amanda grew up in northern Michigan and resides in Indian River with her partner James and their two dogs Riley and Hunter. They enjoy spending time outdoors camping, kayaking, and hiking.
Tiffany Stevens has been promoted to Branch Operations Supervisor of the Indian River branch taking over the role from Amanda Nicholson. Tiffany began her career with CNB at the Indian River branch as a Universal Banker in July 2014. Tiffany has a wealth of knowledge to support her in this new role, including14 years in banking and past supervisory experience. She and her husband Chad reside in Indian River and have two grown children Brandon and Shawna and have recently become grandparents.