September 14, 2020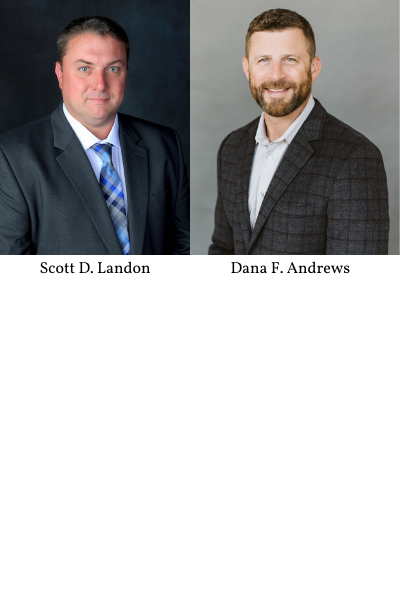 Citizens National Bank board of directors appointed Scott Landon and Dana Andrews as new directors -effective September 10, 2020. Both Scott and Dana call northern Michigan home while owning and operating their own businesses.
Scott is a 1992 graduate of Cheboygan High School and immediately went to work in the family business, Landon Auto Parts Inc./CARQUEST, working his way through all aspects of the company to eventually becoming its president in 2012. Landon Auto Parts is in five communities in northern Michigan serving Cheboygan, Indian River, Boyne City, Charlevoix, and Onaway.
Scott is very civic-minded and is serving, or has served, on several local boards including Cheboygan Youth Tackle Football, Indian River Resort Region Chamber of Commerce, and the Cheboygan County Fair Board. He is also an active council member of the CARQUEST Auto Parts Independent Advisory Council based out of Raleigh, NC.
Scott resides in Cheboygan with his wife Joanna and their children Austin, Calli and Tyler. As a family they enjoy the varied seasons and sports of northern Michigan and can be found on Mullett Lake in the summer enjoying the Inland Waterway.
Dana Andrews is a 6th generation Petoskey native, having earned his Bachelor of Arts in Business Administration from Hope College and his Master of Business Administration from the University of Michigan. Dana served in the United States Marine Corps and during Operation Iraqi Freedom.
Dana's diverse background includes military service, as well as careers in corporate management and consulting. He eventually moved back to northern Michigan where he owns and operates retail stores including Sturgeon River Pottery and NorthGoods in Petoskey, MI. Dana is actively involved in his community currently or previously serving on the boards of the Petoskey-Harbor Springs Area Community Foundation, Habitat for Humanity of Northwest Michigan and the City of Petoskey Planning Commission.
Dana has two daughters Lucia and Evelyn and when not working they love spending time traveling, skiing or enjoying northern Michigan's lakes.
CNB President & CEO Matthew Keene noted that both Scott and Dana will certainly be welcome additions to the board and CNB team. "As business owners they bring to the board a wealth of information, including the nuances of owning and operating successful, family-owned businesses in northern Michigan."
Citizens National Bank is a full-service community bank with branches in Cheboygan, Onaway, Mackinaw City, Pellston, Indian River, Alanson, Rogers City and Petoskey.